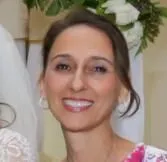 Dina Bernat-Kunin is a Licensed Clinical Social Worker with over 30 years of experience with adults, adolescents, and children, in traditional psychotherapy. She earned her Masters Degree in Social Work from Columbia University School of Social Work, and a certificate in Psychoanalytic Psychotherapy from the Southern California Psychoanalytic Institute. In addition, Dina received her certification as an Energy Healing Practitioner from the Blue Stone Institute for the Healing Arts.
Dina has worked in settings dealing with both physical and emotional trauma, acute and chronic physical illness and severe mental illness. Her current practice covers a broad range of areas such as grief and stress associated with life challenges, changes and illness, as well as anxiety, depression, infertility, cancer and other chronic pain and disease.
Along with her extensive clinical skills as a therapist, Dina brings strength from her own life experience, a compassionate open heart, and a warm maternal energy to a soothing healing space. Don't miss out on experiencing a session with Dina where you will receive the benefits of her gifts and have the opportunity to feel contained, safe, and supported. She will enable you to take the steps to facilitate your own healing journey.